Sports Radio DJ waxed nostalgic for Taco John's. Then we made his day.
Posted Sep 4th, 2018
We didn't set out to score points, but our food drop-off for a morning radio talk-show host led to some nice PR for Taco John's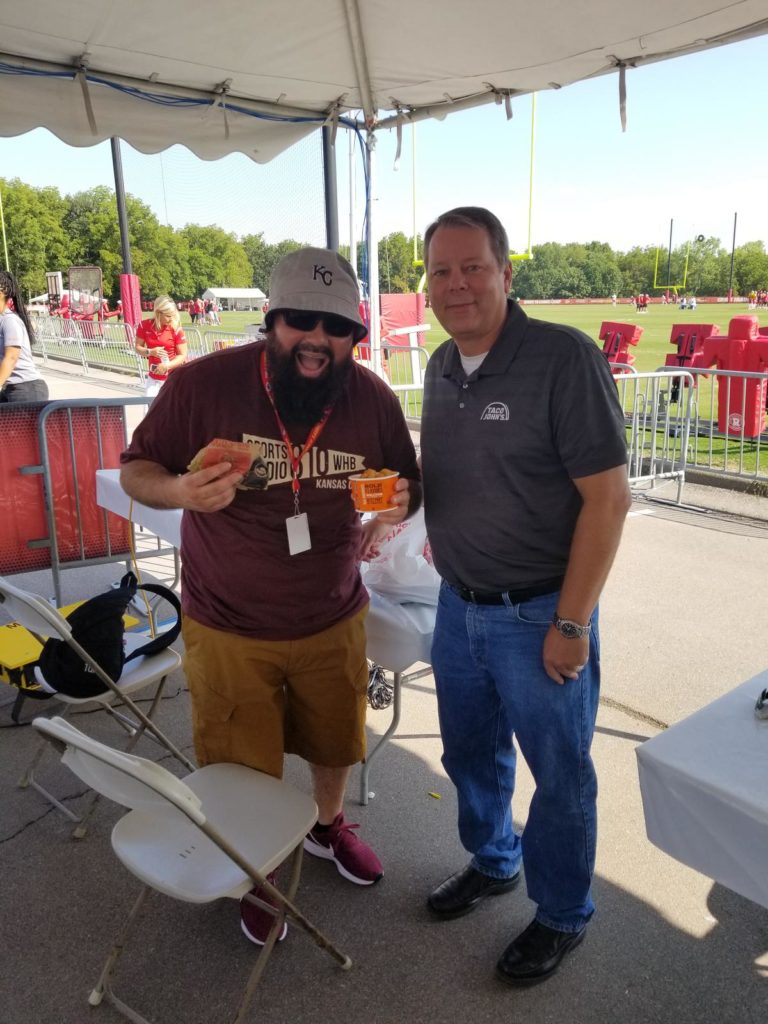 When it comes to taking care of a fan, sometimes the fan takes care of you. Case in point: We unintentionally scored a nice stretch of air time on a popular sports radio station after one a member of our franchise support team overheard a DJ waxing nostalgic about Taco John's.
Director of Construction Steve Lazenby was listening to Kansas City 810 Sports Talk Radio one morning as they covered training camp in St. Joseph, MO, for NFL team the Kansas City Chiefs. St. Joseph is about an hour north of Kansas City. When deejay Steven St. John mentioned how much he loved covering the Chiefs' training camp because he could indulge in his passion for our delicious Mexican food, Lazenby knew what he had to do.
"The 'Border Patrol' weekday morning show has three co-hosts, and one of them was live at Chiefs' training camp last week. He mentioned he was glad to be back in St. Joseph where he attended Missouri Western, because he could get some tacos from Taco John's," Lazenby said. "So I started thinking we should try to coordinate a food drop during a live broadcast."
It just so happened that Lazenby and St. John had a mutual friend, who found out what St. John's favorite menu items were and helped coordinate the selection before Lazenby dropped it off for St. John and the rest of the crew the next day.
"We got to talk on the air for about six minutes," Lazenby said. "He talked about Taco John's, and we talked about where we were hoping to open our next location in the Kansas City market and talked about our 50th anniversary next year."
Why Taco John's franchise has raving fans
People who already know and love our Mexican franchise know: Taco John's is different. Quality, freshness and bold flavors are characteristic of our unique take on Mexican food, and that's why people like St. John turn into fans for life. Lazenby brought in Breakfast Burritos, Mexican Donut Bites, tacos and of course, Potato Oles®.
Dropping off food to media outlets is actually a great way for franchisees to get the word out when they open in a new market.
"It's just a way to get your name out there and let people taste your food when you're in a new market," says Lazenby. "It's a very cheap, inexpensive way to market once you hit a new area."
We have almost 400 locations in the U.S., and we are expanding rapidly. We have consecutive record expansion years for new commitments but prime territories are still available.
Learn more about the Taco John's opportunity
Please fill out the form on this page to start a conversation about the download our free franchise report, or check out our research pages for more information. We look forward to hearing from you.