From Medical Management to Multi-Unit Franchisee: Q&A with Brad Paxton
Posted Sep 18th, 2018
Nashville businessman plots big growth for Taco John's in Central and Western Kentucky
Entrepreneur Brad Paxton and business partner Matt Keiser know a good thing when they see it, and when the pair started searching for franchise opportunities to diversify their portfolio, Taco John's stood out.
"For us, it was really just striking when the iron was hot," Paxton says. "A lot of other people saw the opportunity that we did, and that was not only that the fast-food QSR segment is growing year over year, but we were both very familiar with Taco John's."
Paxton and Keiser own a Nashville-based medical management company called United Medical Partners.Read on to find out why Paxton and his business partner dove into this investment head-first, 12 units deep, in this Taco John's franchise review.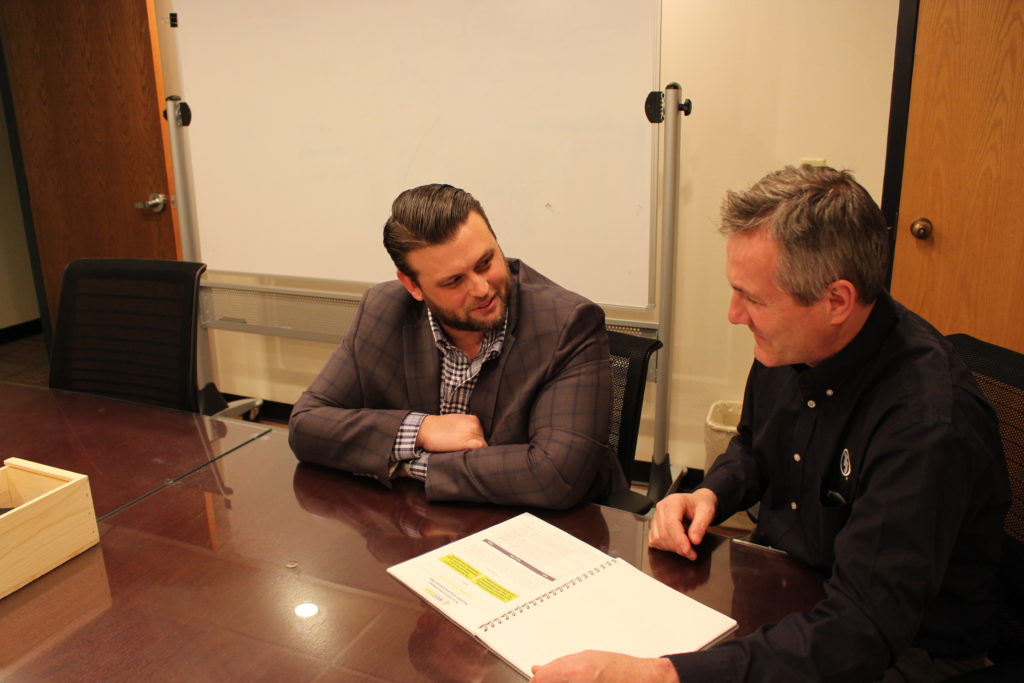 How did you find out about Taco John's?
Taco John's was a brand that we've known for… well, since I was a kid and he was a kid. Matt's from Nebraska and I'm from Western Kentucky, and we were both very familiar with the brand, so we explored it together along with some other franchises, and it was a perfect fit for us.
What was it that made Taco John's stand out over the other franchises you looked into?
The Mexican fast food segment is growing very quickly. There's Taco John's growth over the past year. They just signed a 100-store deal for Georgia, North Carolina and South Carolina. They also have new franchisees in Indianapolis, as well as in Chattanooga. We knew it was the right decision. We knew the cult following it had from the Midwest that's now all the way in the South. And once you go and try it, people come back. So for us, we really believed in it before they even gave us their spiel.
I'm 38, my business partner is 33. We're relatively young. We're go-getters. We're wanting to grow. We're wanting to go quickly. We have a support staff in here in our office that is ready to go to help us manage this from an operational side. So, we're really fired up. And I think that it's a perfect marriage between us and Taco John's.
Tell me about your units. What's your plan?
Well, we are not open yet. We just got approved for zoning in Glasgow, KY. That's going to be our first store. And we're looking at our second location being in Somerset, KY, which is about 40 minutes away from Glasgow. Great town; the demographics, wonderful. The people are great. I was there earlier this year just scouting property and talking to people about the community, and with Lake Cumberland right there, it's a great spot for people going to the lake. It's just a really good community there.
From there we're going to head up the I-75 corridor. Definitely going to go to London, KY, probably with store No. 3. We're also looking hard at Corbin, and then heading up 75 to most likely Berea, and then really getting into that Lexington market, like Richmond, Lawrenceburg, and Winchester and then into Lexington proper.
I'd like to talk with you a little bit about the real estate play here and how that factors into your growth strategy.
Sure. For the first couple of stores, we're going to be operational managers. So we have a couple of investors that are helping us out with the first couple of properties, and then we plan to own the real estate on stores No. 3 through… we have an option for 21, so just depending on how many we do.
If a potential multi-unit franchisee called you for validation, what would you say?
Owning the real estate is the long-term play. Financially, it's not really realistic on our first couple of stores. We need to build up some capital to do that for stores No. 3 through whatever number we decide to build. But it certainly is the long-term play, and it's the smart play.
What kind of support have you gotten from Taco John's during the site selection process?
It's been really valuable, because me and my business partner have been in medicine and in sales management for so long, this really is a new frontier for us. Understanding real estate, understanding traffic flows, demographics, where to put the store. You have to look for medians. Is there a red light? You know, there are so many different variables that we have to look at that we were unfamiliar with.
So Taco John's really wanted to help again in all of that. They helped us out with pulling demographics, finding real estate, giving us advice. We have a trusted commercial real estate agent who we worked with on several other endeavors. And he's been great as well, helping us find properties. So it's been a little bit of a hybrid between us and Taco John's.
How do you anticipate getting ready to have that first unit up and running?
I'm going to be at Taco John's corporate for the next four weeks doing franchisee training. Getting out there and learning a little bit more about the culture of Taco John's, and just everything from A to Z — from doing the back office work to making a soft shell taco to different Potato Oles® in the fryer. So it's going to be a little bit of everything while I'm there. But I feel that the best way to learn is just really throwing yourself in there, not just being the suit in the back that owns the place, but knowing what you're doing and how to manage your store. So I'm actually pretty excited about that.
How do you think your background is going to help you run your franchises?
It's funny you ask that, because that was my No. 1 concern going into this. In college, I was the clerk at a local drive-in in Paducah, KY, and I worked the grill for about six months there, but outside of that I had no fast food experience, no restaurant experience for that matter, which made me very nervous.
I sat down with one Taco John's franchisee and I said, "Look Larry, the thing that really bothers me is I know how to manage people. I know how to get the optimum amount of effort and ability out of everybody that I work with or I employ, but I don't have any experience in this." And Larry really just told me that, "If you know how to manage people, that's what this is all about."
Do you think your experience managing people in your own business gives you an edge?
That's what me and Matt, my business partner, are really good at. We know how to manage people. We know how to set expectations for our employees, and not over-promise. And certainly, we don't under-deliver. We really pride ourselves over the past several years of treating the people that we work with the way that we want to be treated, and I want that to really spill over into the company that we're starting here with Taco John's.
I think that we're going to be able to translate a lot of our experience over the past five years into this new endeavor, just because we're very coachable, we understand how to manage people, and the expectations that we set, they're high, but they're very manageable.
Are you planning to diversify further with different kinds of franchises, or is it just this for now?
Just this for now. I don't like to put the cart before the horse, but we have talked about some other opportunities with franchising once we get our feet wet with Taco John's. But right now, all of our focus is going towards Taco John's. But we are leaving the door open for other opportunities in the future.
What do you think is the most important thing for a potential multi-unit owner to know about Taco John's?
With Taco John's, their support has been unbelievable to this point, especially with me and my business partner being so green. They really helped us out. Their culture is very Midwestern, it's very friendly, it's very to-the-point. They have treated us professionally, but at the same time, they've kind of put themselves in our shoes. They have molded themselves to fit our needs, rather than the other way around.
We are two relatively young guys, for being franchisees. We're definitely excited about this opportunity. We look to take every town and get as much business as we possibly can treating the community like they're our own. We're fired up and I think that we're going to do really well. And Taco John's has been nothing but great with us.
Learn more
We have nearly 400 locations nationwide and are expanding into new regions, with many prime territories available. To learn more about multi-unit and single-unit opportunities with Taco John's, please fill out the form on this page to download our free franchise report, or check out our research pages for more information. You can also explore our blog to read more Taco John's franchise reviews.