How Our Menu is Different
Our Mexican restaurant franchise is unlike any other, thanks to our bold flavors and unique take on classic Mexican cuisine
It can be hard to differentiate yourself in a crowded marketplace.
Unless you're Taco John's.
We pride ourselves on the quality of our food, which is far better than standard fast-food fare, and our legions of brand fans as well as our devoted franchisees agree it's something special. Our bold flavors and commitment to quality ingredients make us one of the best Mexican restaurant franchise opportunities around.
"Our team learns to make actual recipes. There are measuring cups and spoons in our restaurants," says Tam Kennedy, a multi-unit owner in Minneapolis. "We honor the recipes of our founders."
Our food has a unique flavor profile thanks to our proprietary mix of spices and seasonings, as well as the careful attention of our culinary research team. You might be surprised at how much effort goes into developing our menu.
Housemade taco shells. At a fast food Mexican restaurant?
Yes. Since we first opened in 1969, we've maintained a commitment to using fresh, quality ingredients that has turned into a real love affair.
"We could bring pre-cooked shells in through the back door of the store every day, but they wouldn't be as good and customers wouldn't love them as much as fresh fried shells," says Bob Karisny, Vice President for Menu Strategy and Innovation. "But we won't compromise the guest experience. I am a fan of crispy tacos, and I consider it a measurement of our restaurants. The reason we sell so many crispy tacos is because all of the flavors are connected: The shell is right, the meat is right, the lettuce is right – we deliver flavor that other fast food chains can't match."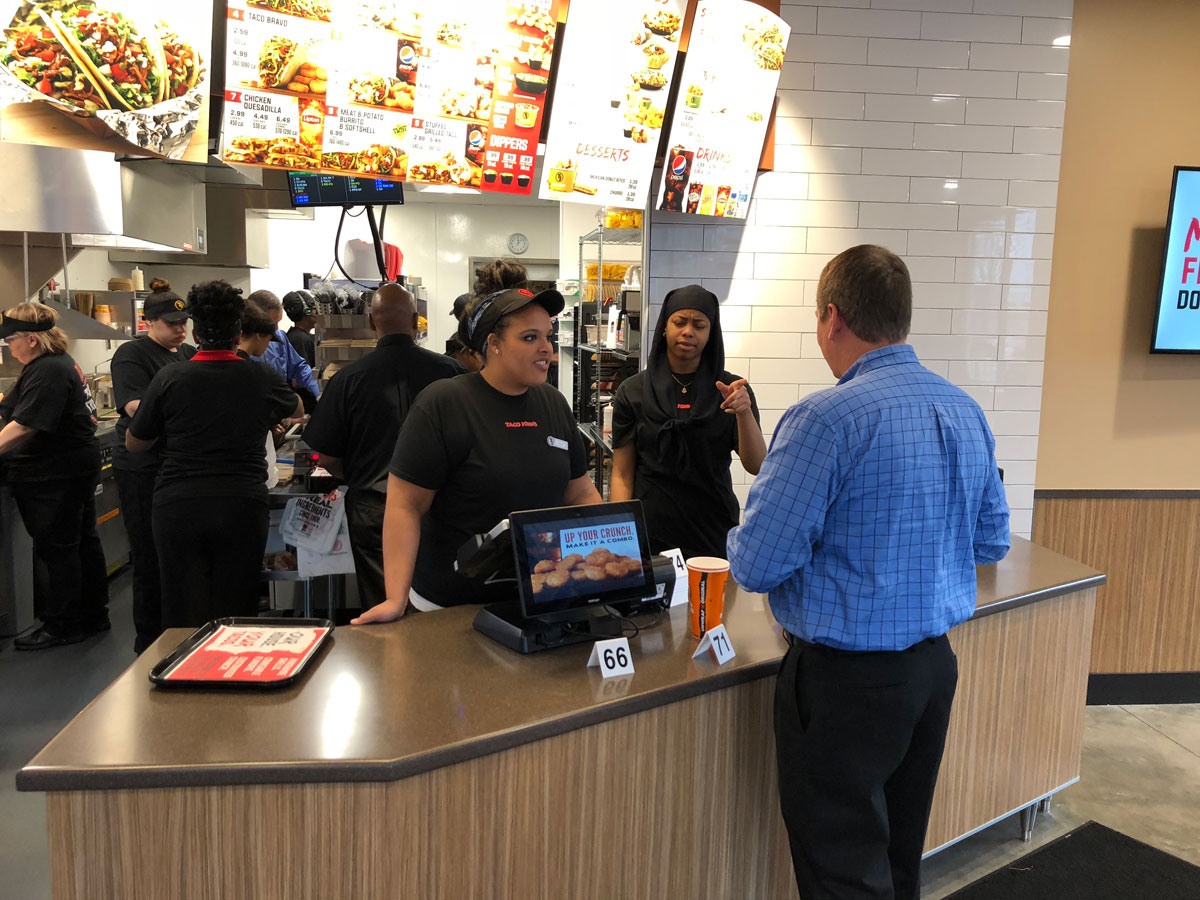 Our tortillas are made using a premium process and then sent to restaurants, where they are cut into chips and shells and fried fresh daily. "Our taco shell recipe and the cooking method we use for the shells are designed to provide a very specific amount of crunch and tenderness when customers take a bite," says Karisny. "Even the molds that are used to produce the taco shells are specially engineered to make sure the shells fry properly."

Authentically Taco John's
Ask anyone who's familiar with Taco John's what they think of when they hear the name and they'll almost certainly answer: Potato Olés®. This signature menu item, fried and seasoned potato discs, is served as a side and also used as an ingredient in menu items like our Meat & Potato Burrito. It's part of the flavor profile that makes the Taco John's menu unique, and it's where our culinary team sometimes likes to get creative.
One of the fun things about our menu is that we maintain a balance between traditional Mexican favorites and innovative new fusions. When limited-time offers (LTOs) are overwhelmingly popular, they become a permanent part of the menu. That's what happened with our Street Tacos. LTOs and fan-favorites are designed to entice new customers and bring back brand fans; our menu is meant to remind everyone that there's always something new to try at Taco John's.
How we stay ahead of the Mexican flavor curve
The culinary team follows some interesting paths to generate new ideas for menu items. Every two years, they head to Mexico to explore emerging regional cuisines from renowned chefs. They also take regular "taco tours" of the United States, trying the menus of competing chains, as well as visiting popular Mexican restaurants and food trucks. Those flavors often turn up as LTOs.
Taco John's also sponsors a culinary competition for high school students in Wyoming and Colorado, inviting them to create their own dishes and awarding scholarships to the winners. The competition allows Taco John's to mentor the next generation of chefs and also gives us insight into what's popular among young diners.
"They make items that they want to eat and they think their friends will like to eat. When you have dozens of competitors, you see patterns emerge in the ingredients they use and the types of foods they make," Karisny says. "That helps us plan menu items that appeal to young diners and help our franchisees win their business."
We make what customers crave
"Beef is another great example of Taco John's quality," Karisny says. "The flavors you taste when you bite into our tacos come from our spices, our attention to detail and the quality of the ingredients."
Our consistent attention to the details adds up. If you can't nail something as deceptively simple as a beef taco, then why try? Our truth is just as simple: Quality matters to us. Always has, always will.
Learn more
To learn more about our Mexican restaurant franchise, fill out the form on this page to download our free franchise report and start a conversation.