What Is Taco John's?
Our Mexican franchise has only 1 national competitor in Mexican QSR, and we have the edge over them with prime territory availability and our unique twist on Mexican food
Imagine going to that nationwide fast-food taco place down the street. Now imagine going to a place to get food that tastes garden-fresh, with tortilla shells cooked fresh daily on the premises and vegetables chopped and ready to go every morning. Imagine a breakfast menu that's bold and delicious and doesn't include chunks of mystery meat. Picture a business model that prides itself on a combination of long-time stability, integrity and innovation. That is the Taco John's Mexican franchise.
Taco John's is a national QSR brand with longevity, having been in the Mexican food franchise segment since 1969. We are experiencing unprecedented growth in our brand's history at a time when Mexican food is more popular than ever. In 2017, we celebrated a record expansion year with 116 new commitments.
"With 50 years of success in the rapidly growing Mexican food segment, Taco John's is a legacy brand with a proven track record," says Taco John's President Jim Creel. "Our bold flavors and unique menu items have helped us create a cult-like following among brand fans, and our available territories coupled with the lack of competition in the Mexican QSR segment makes us tremendously attractive to large-scale investors. We're growing like never before."
Why Taco John's franchise is a great investment
Mexican restaurants are hot right now, generating about $45 billion a year, according to foodservice data analyst CHD Expert. While burgers, sandwiches and pizza feature multiple nationwide competitors, that's not yet the case among Mexican fast-food franchises. There's only one nationwide player — and Taco John's is seizing the opportunity for growth in the Mexican franchise segment with our higher-quality alternative for customers.
"Taco John's has always stood for quality, freshness and bold flavors," says Rocky Clark, Vice President for Operations. "Some fast-food giants are suffering because they've forgotten about quality in their efforts to drive down food prices. That's not something we will ever do. Quality is our business. Customers seek it out."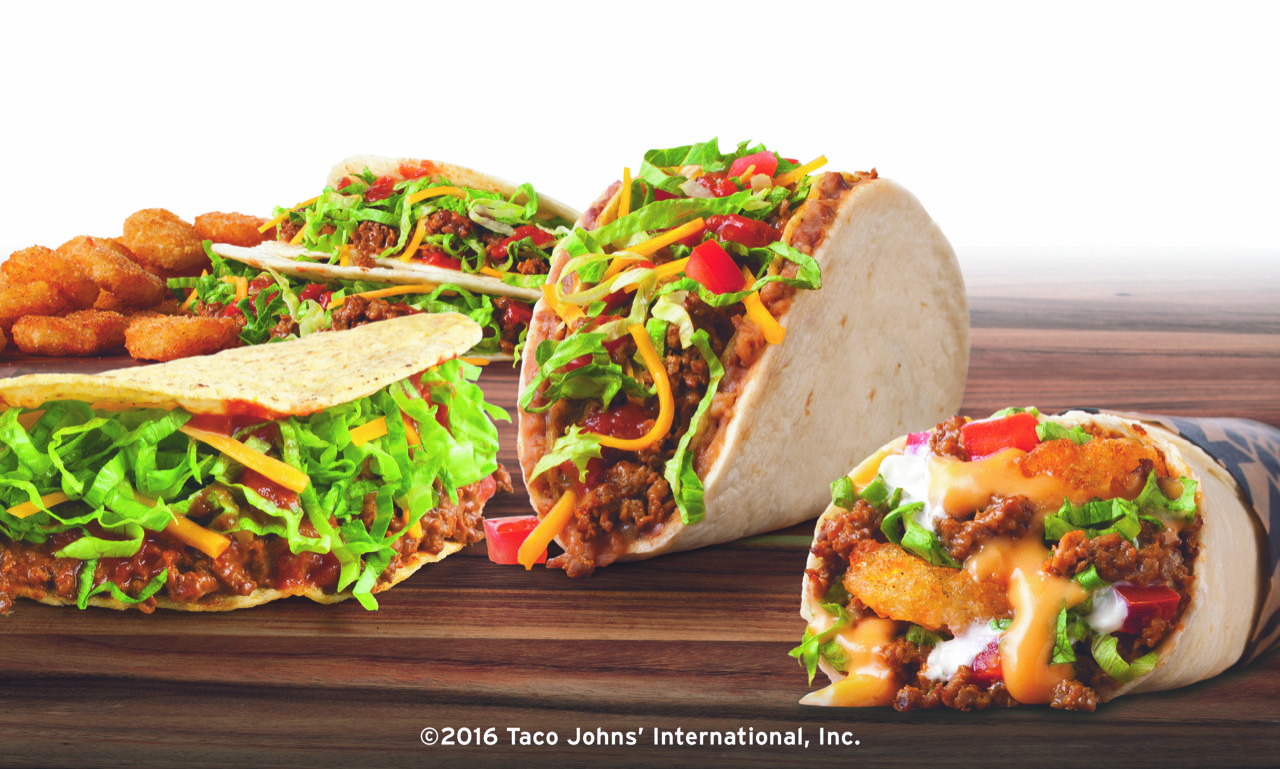 Fast-casual quality in a drive-thru format
Our brand has been built around distinctive menu items such as Potato Olés®, Meat and Potato Burritos, handmade chips, fresh produce and quality tortillas. The quality of our food is more akin to what you would expect from a fast-casual concept, but we offer our customers the convenience and value of fast food.
More than 60% of our sales are drive-thru transactions. Our average drive-thru speed of service during the lunch daypart is 221 seconds, or just over 3½ minutes, beating the average time of 226.3 seconds in a study of thousands of drive-thru outlets nationwide conducted by QSR Magazine.
With an unwavering commitment to quality and service, we've developed a guest-centric operational philosophy that has shaped our systems over the years. We simply won't compromise the guest experience on any level, and that's why we've developed operations and systems over the years that allow us to serve high-quality food in a fast-food timeframe — with a drive-thru.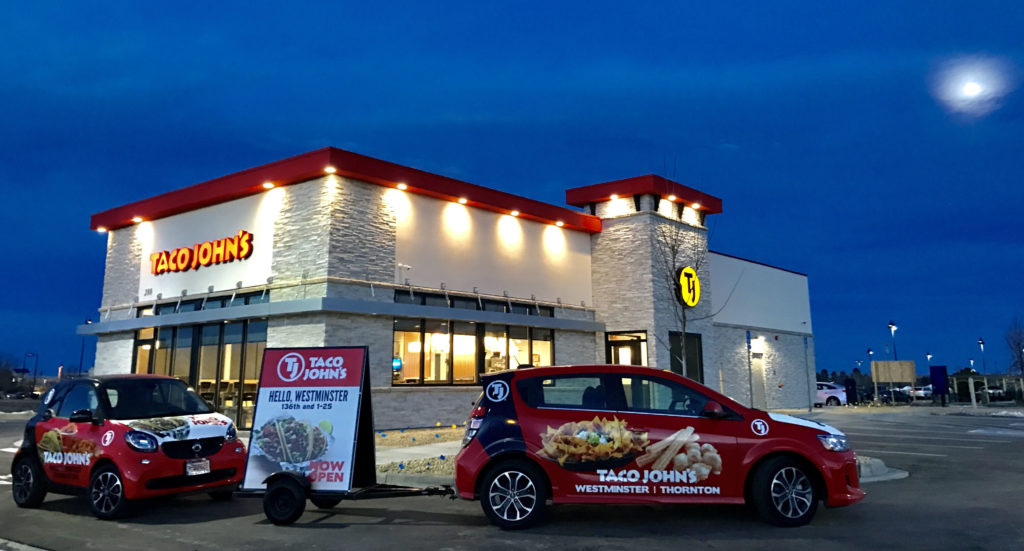 Why buy a Taco John's franchise now?
We have expanded beyond our Cheyenne, WY, roots and traditional Midwest foothold into markets that are just now getting to know the Taco John's brand — from Tennessee, Kentucky and the eastern seaboard of North Carolina to South Carolina, Georgia and more. The opportunities to grow in prime territories with Taco John's are great right now.
"Everywhere we have fought this fight, we have won," Ingram says. "We didn't just create a footprint, we created a footprint with a cult-like following. We are looking for franchisees to come in, invest, to be a part of it and grow with us."
Learn more about our Mexican franchise
To learn more about what Taco John's has to offer franchise investors, please fill out the form on this page. One of our Franchise Development representatives will be in touch as soon as possible.