How Our Marketing Helps Grow Your Business
Taco John's has the resources and experience to help our Mexican franchises go above and beyond
Have you ever heard the phrase Taco Tuesday®? Taco John's came up with that phrase and trademarked it years ago, helping to promote business at our growing chain of Mexican franchises. Clearly, the phrase has taken off. And that says a little something about our expertise in the field of marketing.
The power of marketing can make a huge difference in everything from average unit volume to brand reputation. Our powerful marketing team, headed by Vice President for Marketing Alan Wright and Director of Digital Strategy Jimmy Orr, brings a unique blend of experience to the table.
"Our highly experienced Field Marketing Team brings relevance to our local restaurant marketing initiatives," says Wright, "including Grand Openings, media plans, sampling and Co-op Management."
Advertising with attitude
We've been attracting a cult-like fan base since 1969 thanks to our bold and unique Mexican flavors. Why shouldn't our advertising match that boldness? Wright, whose marketing experience in franchising includes Newk's Eatery, Krystal Hamburgers and Hardee's, is focused on leveraging our classic product lines, adding exciting new promotions, and reminding consumers why they love Taco John's.
"We are bringing an advertising message with a new attitude so people remember us better. This way, we're top-of-mind when it's time for people to go to breakfast, lunch or dinner," Wright says. "Then we layer in the menu items that people already love, like our iconic Potato Olés®, with limited time offerings (LTOs) that are in line with emerging taste profiles. This is a legacy brand, but we understand the need to evolve. We've always got an eye on the future."
Digital drives consumer traffic
Orr makes sure franchisees are connecting with their fans by meeting them on the digital platforms they're using. Leveraging his background in digital communications with the George W. Bush White House and Arnold Schwarzenegger's gubernatorial campaign, Orr has devised a solid strategy that employs our rewards app, social media and whatever is trending in the ever-evolving digital world to help drive traffic to Taco John's.
"People are engaging others on Facebook, Instagram and Twitter or browsing online or on a mobile device. That's where the big audience is," Orr says. "Meeting hungry audiences at the right time, on the right device, with the right message is the sweet spot for all one-to-one marketing."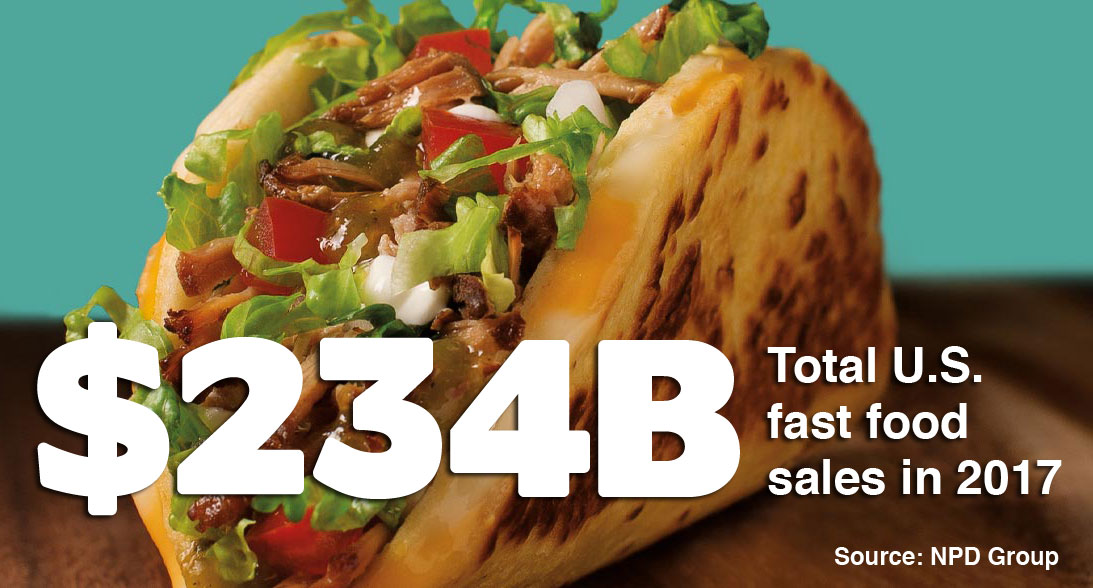 We work to protect your bottom line
A combination of strategic marketing, bold flavors and delicious, quality food drive both customer traffic and bottom line results for franchisees. While many Mexican franchises rely on discounting to bring in customers, Taco John's strives to provide everyday value and leverages LTO promotions to bump customer traffic.
"Some companies drive their franchisees crazy by relying on discounts to drive traffic to their stores," says VP for Franchise Development Van Ingram. "They'll discount core menu items, devalue the menu for customers and eliminate the profit margin in an effort to bring people in. But that doesn't help a franchisee's bottom line."
We feature LTOs several times a year, which helps attract new customers and encourage repeat visits. Our LTO calendars are developed two years in advance in order to accommodate research, testing and the development of marketing campaigns.
Franchisee input
We value the experience and knowledge of our franchisees, and to that end, the Taco John's marketing team includes field managers who visit restaurants to evaluate promotions and ensure that franchisees have the tools and support they need.
Franchisees, who may be required to join an advertising co-op in some DMAs, can use our TV ads to drive customer interest in the brand. They can also leverage our database of customers who sign up for email offers.
We offer strong grand opening marketing support, including traditional media, digital channels and public relations, and we will remain a true partner in local store marketing efforts throughout the life of your franchise agreement.
We are constantly recalibrating and improving our systems based on feedback from franchisees and customers. Taco John's is focused on growing sales, growing the number of transactions and boosting unit-level economics. With each marketing effort, we ask ourselves: How will it impact the bottom line?
Learn more
To learn more about how you can own one or more of our Mexican franchises, fill out the form on this page to download our free franchise report and start a conversation.