Taco John's Franchise Support
Our experienced franchising team has you covered every step of the way
A company is only as strong as the team behind it. That's why it is so vital to Taco John's that every franchise owner be familiar with our company culture so that the guest experience is consistent at every Taco John's location. From food prep and safety to developing the next Taco John's leaders and managers, our systems support franchise owners along the way. Our many years in business have taught us how important it is to not only prepare new franchise owners but to provide the necessary resources they need throughout the life of their franchise agreement to help them excel. Here's a look at some of the components of Taco John's franchise support.
New store openings

As a new franchisee, you will be assigned a New Store Opening Manager whose sole focus is to make sure your Grand Opening goes smoothly. They will guide you through equipping, staffing and training; introduce you to important vendors relationships; and teach the ins and outs of operations to help new units navigate every launch with ease.
"New franchisees have unique needs, so we created a position that is dedicated to helping new Taco John's owners get up to speed quickly," says Rocky Clark, Vice President for Operations. "Taco John's has a lot of resources available, and a lot of vendors to tap into as you set up your restaurant and get ready to open. Our New Store Opening Manager gives new franchisees a single point of contact so they can get a lot accomplished very efficiently while they are still learning the business."
Three Taco John's operations consultants are on hand for every Grand Opening, and as your business matures, you will be teamed with a regional Franchise Business Consultant (FBC) as your go-to resource on all things Taco John's.
The Olé! Way


Our online Learning Management System (LMS) is called The Olé! Way. We take immense pride in our food and service at Taco John's, and we provide consistency by doing things "The Olé! Way." The LMS is updated and interactive, a system that helps participants understand that Taco John's is genuinely invested in helping them learn.
"The tone of the LMS is fun and witty, which helps as the the training team will interact with Taco John's employees multiple times throughout the course of their career," says Stacie Homan, Director of Training. "It is crucial for the Training Department to make a good impression. Whether it is an employee's first day or fifth year on the job, they should come away from every interaction with the Training Department feeling excited, encouraged and proud to be part of the Taco John's family."
An early start on franchisee support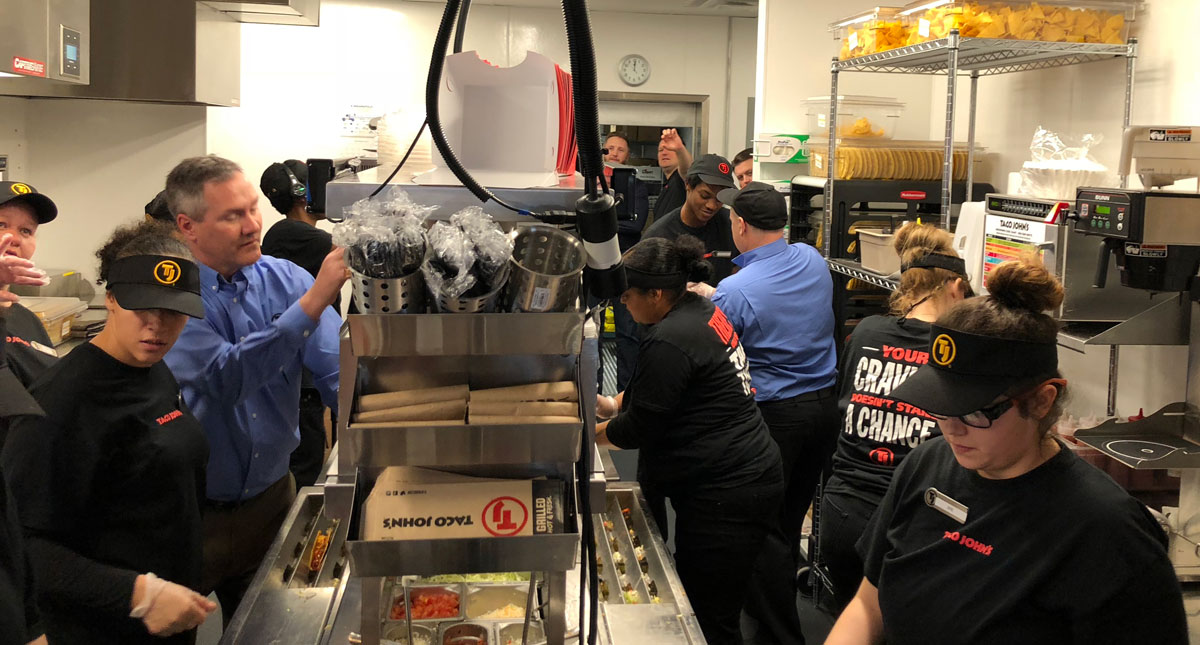 We start working with franchisees months before their targeted opening date.
"Once you join the franchise system and get a welcome letter, I get in contact and get the ball rolling to help you open," says New Store Opening Manager Robert Allison. "We have a detailed timeline for when different activities need to be done and use a chart to track the phases of your project and help keep everything on track."
We also send your appointed managers for one month of training in one of our corporate restaurants. Your certified managers will train the rest of your staff, with the help of Taco John's operations team members.
Ongoing franchisee support
FBCs will continue to help you maximize revenues and profit margins with regular visits. We have systems that let you track food and labor costs as well as other KPIs.
Our FBC's have strong operational backgrounds, Clark says. "They know how to work the fryers and serve the guests, and we'll show your employees how it's done. If your store gets busy while we're visiting, we're not going to just stand there with a clipboard; we're going to start making tacos!"
Learn more
Find out more about Taco John's franchise support by continuing to explore our research pages. You can also fill out the short form on this page to start a conversation with a franchise development representative.