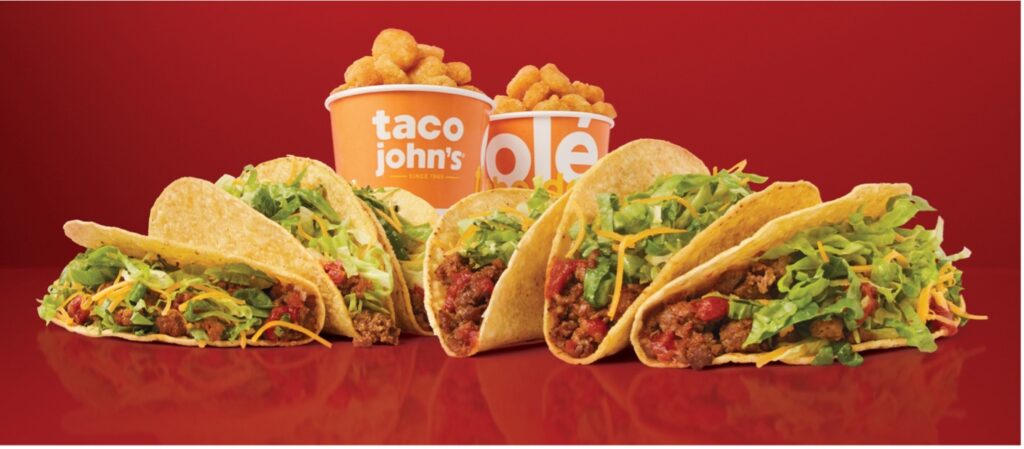 Everyone's talking about the Mexican Quick Service Industry for its widespread customer appeal and robust franchise opportunities. But it's menu innovation that will set competitors in the space apart. Taco John's is leading the charge and creating buzz with a variety of new, unique menu items that were added to its valuEST menu.
Taco John's has been prioritizing menu innovation since the business began as a small taco stand in Cheyenne, WY back in 1968. As the brand rapidly gained popularity for its delectable tacos, the concept grew in popularity by expanding its Mexican-style cuisine throughout the years. Taco John's launched the never-before-seen Potato Olés®, which quickly became a fan favorite across the nation. Other quality offerings, like handmade salsas and Meat & Potato Burritos became a part of everyone's go-to order too.
Taco John's is still surprising fans with new product launches today. In fact, the Four Cheese Quesadilla is the newest addition to the brand's vast menu. Our perfect blend of asadero, queso blanco, Monterey Jack, and all-natural Cheddar cheeses have customers flocking to our drive-thru spots across the nation. We've even stuffed it with your choice of hand-cut sirloin steak or grilled chicken, and a zesty chipotle lime sauce to top it off. Other new items on the valuEST menu include the Grande Beef Taco – Taco John's biggest taco yet – and the Chicken, Bacon Guacamole Street Taco. Ingredients range from American beef to our signature pico de gallo to spicy jalapeño ranch and everything in between.
A legacy brand like Taco John's has staying power and is the perfect opportunity for anyone looking to franchise with a brand that values longevity. With 54 years of experience and nearly 400 brand-owned or franchised locations across the U.S., Taco John's still maintains its presence as one of the largest Mexican Quick Service Restaurant brands in the country. Taco John's now has an AUV of $1.69 million, and prospective franchisees are eager to own a franchise that is constantly innovating and building its reputation.
Have you considered franchising with Taco John's for its ever-growing presence in the Mexican food segment? If you'd like to learn more about franchising with the highly regarded brand, fill out our form to request more information about Taco John's.